Cable Labels
Tech Cable Labels is our own brand of labels for the structured cabling and communications cabling market, we have taken our electrical engineering and low voltage knowledge to design and manufacture the best performing and economical labels around today.
Our goal is to provide the most cost-effective labeling solutions to the Data and Telecommunications Networking Industry across the world and to exceed every technician's expectations for ease of use, quality through better design.
Our range is now growing for the structured cabling market with our new Patch Panel labels, fiber tags and data jack labels all made to the same high quality that you have come to expect. We send out free samples, just send your details and send you some samples free to test.
We design and are the best at making labels for structured cabling installations.
Cable Labels
Tech Cable Labels WACL-49 (49 Cable Labels per Sheet)
Cable Labels (49 Labels per Sheet) These new Cable Labels have a new design, gone is the straight edge that never went well, our design patent labels give the installer a nice point to start the label ensuring a straight application every time. Try them out for FREE with our samples and free software.
This along with the two tails makes the cable label even stronger and in our test, it outperformed other labels. Our Tech Cable Labels Laser printable Labels are new Technical designed labels ideal for multipurpose labeling projects that can benefit from self-laminating labels.
Made in the USA
One of the main components of the solution is the labels, Self-Laminating, Wrap-Round Style cable labels. These cable labels are designed to wrap around the cable, laminating themselves as they are applied to create a durable, easy-to-read cable label. They are designed for printing on a laser printer, the top third of our cable labels being the print area, and the bottom two-thirds of our cable labels are clear polyester, which over-laminates the printed part once, applied.
They are manufactured using a clear polyester film with an ink receptive print area. Made in the USA and designed by our own Techs this new design enables fast straight installation in the most difficult environments, with our curved top which helps get the label on the right spot to the two tails ensuring a great finish.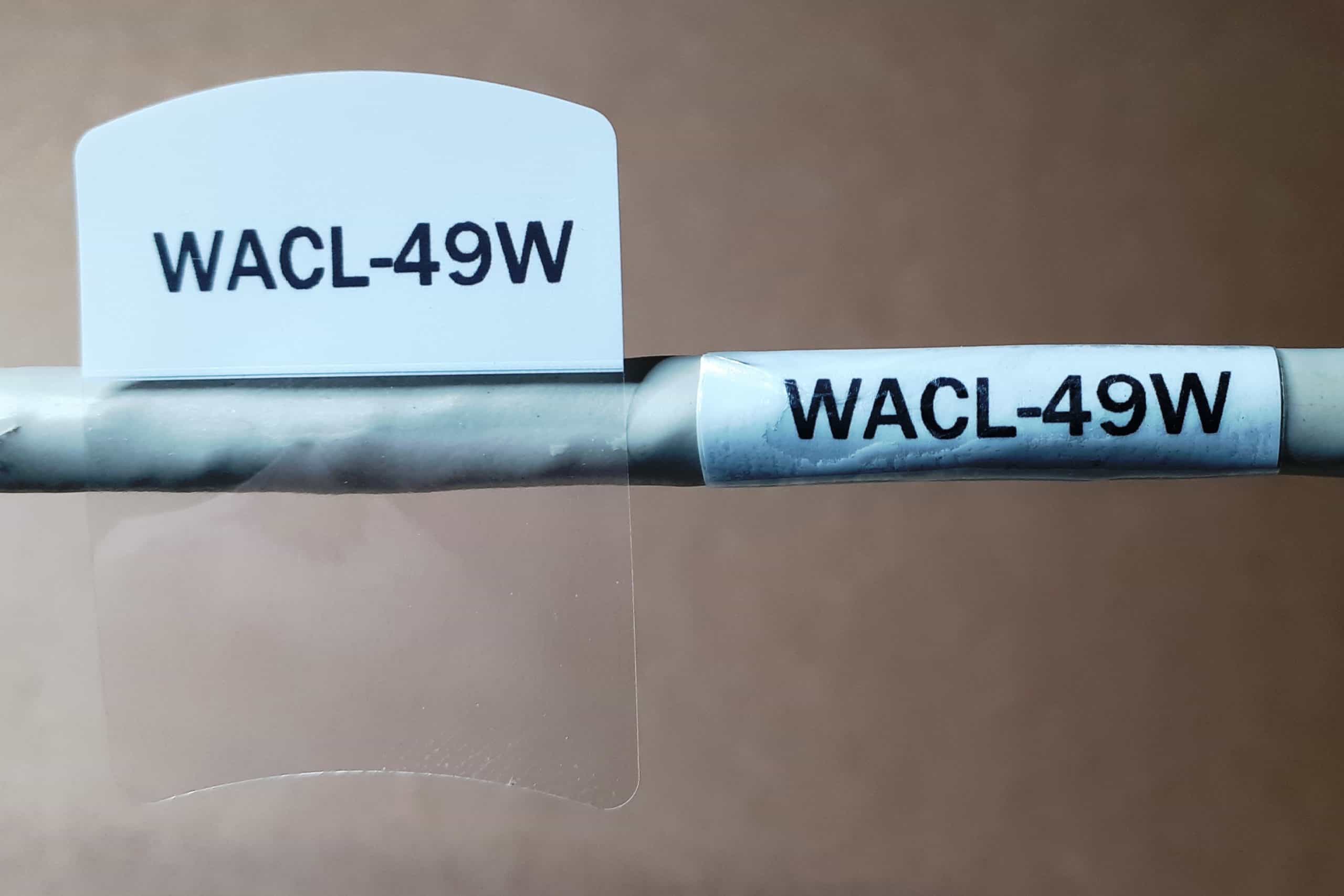 Suitable for all standard office laser printers. Cat 5, Cat 6, USB, Thin VGA, CCTV Applications, RJ6, RJ11 Ideal for Cat 5/6/7 and 10G
W 1.00 in x H 1.33 in x Print H 0.50 in x Wire Dia (low) 0.16 in x Wire Dia (High) 0.26 in x Wire Gauge 0.16 in. – 0.26 in.
Your technicians need to complete the job and we have now included all these into one group of labels which is designed for cabling technicians by technicians with the goal of making life inside that closet more acceptable.
We promise to make your working life better and offer that one on one contact to our staff speaking tech to tech, not the sales department or a manufacturer who just makes labels, we use and install all our products, we are Tech Cable Labels.
Tech Cable Labels enjoys strong and close working relationships with our distributor. We have found them to be hardworking technician-driven companies with great customer service.
If are interested in becoming a distributor and working in the data and telecom market we would like to discuss the possible distribution of our solutions.
Since we started our Cable Labels website we have made the best cable labels for use by structured cabling and Network Technicians. The best part is we use these labels every day on cable labeling jobs around the world, so you know these are not just sold as label products like many sites on the web, but these are used by our own cabling staff.
All our Cable labels can be printed for free at Print My Cable labels.