Patch cords are an essential component of many electronic devices and systems, from audio equipment to computer networks. However, for those who are not familiar with the term, the concept of patch cords may be a bit confusing. This article aims to provide a clear and comprehensive overview of patch cords, including their definition, types, and uses. Whether you're a tech enthusiast or just someone who wants to learn more about electronic devices, this article will help you understand the basics of patch cords.
What Are Patch Cords?
Patch cords, aorpatch cables, are short, flexible cables uconnected toelectronic devices and components. They are used to transmit signals and data between devices and can be found in a variety of electronic equipment, including audio systems, computers, and networking devices. Patch cords typically have connectors at both ends, which can be plugged into ports on electronic devices.
Types of Patch Cords
There are many different types of patch cords, each with its unique characteristics and uses. Some of the most common types include:
Ethernet Patch Cords
Ethernet patch cords, also known as Ethernet cables, are used to connect networking devices such as routers, switches, and modems. They are typically made of twisted pair cables and are used to transmit data over short distances.
Common Uses for Patch Cords
Patch cords have many different uses, depending on the type of cord and the devices being connected. Some common uses include:
Audio and Video Equipment
Patch cords are commonly used to connect audio and video equipment, such as amplifiers, speakers, and TVs.
Computer Networks
Ethernet patch cords are used to connect networking devices in computer networks, such as routers and switches.
THE NEW
No more tangled cables in your 19″ rack. Have patch cables always in the right length. Easy network cable installation. For faster maintenance. And maximum workflow. That's the patchbox. Check out the different variants and cables.
PATCHBOX®
The PATCHBOX is a state-of-the-art network cabling system that replaces conventional patch cords and vertical and horizontal cable management. Providing the exact length of networking cables required. Creating benefits by accelerating rack maintenance and reducing downtime to a minimum. Building an efficient and sustainable IT working environment by preventing tangled network cables. With a 5-year-warranty – which also applies to the cables.
Two types of Frames for your PATCHBOX
We offer two types of Frames, which you can find below. One for full-size racks called the PATCHBOX Plus+ Frame" and one for wall cabinets, the PATCHBOX 365 Frame". Both can hold up to 24 of our PATCHBOX Cassettes.
Organizations today need to be as agile and efficient as possible. The IT environment must keep up with the fast-paced business model, while still meeting the strictest requirements. The PATCHBOX is a practical tool to accommodate business goals without compromising on critical quality elements. It's a clean, innovative, and cost-effective solution that fits perfectly into an ever-changing IT environment.
PATCHBOX
The most innovative cabling system for network racks ever. The PATCHBOX 365 with Cat.6a cables consists of a Frame, the Patchcatch – our 0RU cable manager – and 24 Cable Cassettes with retractable flat cables inside. The cables are 31.50 inches long and cover up to 8RU – ideal for small wall cabinets. You can decide between UTP and STP shielding and eight different cable colors for a better overview.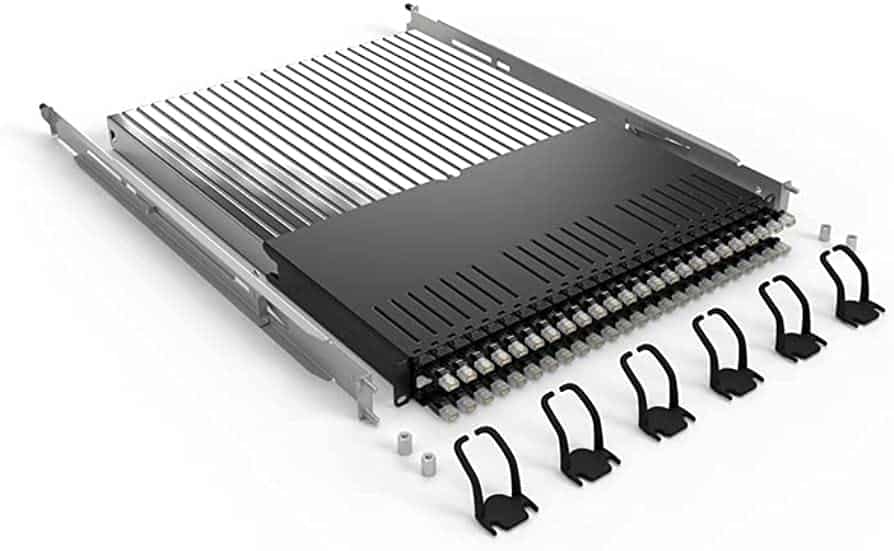 Technical Specification
STP Cable: Flat Cat.6a U/FTP, ISO/IEC 11801 Channel Class Ea, ANSI/EIA/TIA-568 Cat 6A Channel, 500MHz, AWG36, 100% stranded copper, PVC jacket, PoE (802.3af), RoHS compliant
UTP Cable: Flat Cat.6a U/UTP, ISO/IEC 11801 Channel Class Ea, ANSI/EIA/TIA-568 Cat 6A Channel, 500MHz, AWG30, 100% stranded copper, PVC jacket, PoE++ (802.3bt, Type 3 (60 W)), RoHS compliant
Connector: RJ45 shielded plug, pins gold plated, snagless booted
Cable length: 31.50? cover 8RU
Frame: RAL9005 powder-coated steel
Cassette Profiles: Stainless steel, laser-welded
Plastic Parts: Polyoxymethylene POM
Operating Temperature Range: -4?F — 140?F
Ambient Humidity Non-Condensing: 10% – 90%
Gross Weight: 19.40lbs
Packaging Dimensions: 29.92? x 23.23? x 1.97? WxDxH
HS-Code: 8544 4210
labels to be printed www.printmycablelabels.com
Downtime can be costly. According to Gartner, one minute of downtime costs $5600. With the PATCHBOX, downtimes are significantly shortened which reduces losses and gets your business back online quickly.
Installation, maintenance & troubleshooting are up to 8x faster with the PATCHBOX – making work for IT technicians easier and staff & customers happier, while companies benefit financially.
Since each PATCHBOX includes an 0RU Patchcatch cable manager, using other 1RU cable managers is no longer necessary. This means up to 50% more of precious rack space We offer a 5-year manufacturer warranty on the PATCHBOX Plus+ and PATCHBOX 365 – including the cables. If you need to mix and match cord colors or Fiber cords please contact us and we can put that together for you.