TCL-DJ-84
Made for most data jacks, Outlets, and some other data jacks. can be used on any surface.
The standard white label sheet is our most popular and versatile material. It is a bright white face sheet with a permanent adhesive, which prints excellent laser printers.
Weatherproof Polyester for Laser
1.75″ x 0.375″ (44.45mm x 9.5mm) 84 Labels per sheet.
Fits all Card Data jack, just stick to the supplied card labels for a direct fit.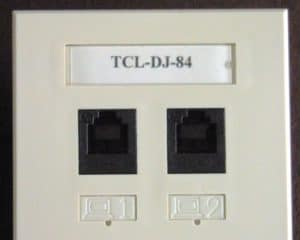 TE AMP Faceplates Jacks Outlets
ADC (old Krone) Faceplates Jacks Outlets
Hubbell
Leviton for Designation Strips
Ortronics jacks
Panduit Two port jack
ADCLS-FPC
Please note: Each TCL-DJ-84 sheet contains 84 Labels. 10 sheets you will net 840 labels