Cable Labels
LSL 77 PACK
Our Laser printable Cable Labels are Top of the range and ideal for multi-purpose labeling projects that can benefit from self-laminating labels. They are manufactured using a clear polyester film with an ink receptive print area. The film is coated with a permanent, UV-resistant, pressure-sensitive adhesive. Our labels are backed with a two-sided, poly coated, printable, lay flat release liner. The film is approved for indoor/outdoor use with occasional exposure to oil and water. Suitable for all standard office laser printers.
Cat 5, Cat 6, USB, Thin VGA, CCTV Applications, RJ6, RJ11
Ideal for Cat 5/6/7 and 10G – W 1.00 in x H 1.33 in x Print H 0.50 in x Wire Dia (low) 0.16 in x Wire Dia (High) 0.26 in x Wire Gauge 0.16 in. – 0.26 in.Can be printed using the Templates Page or with our FREE No Registration Web Printing Site www.printmycablelabels.com
Please note: Each LSL 77 sheet contains 49 Labels. 10 sheets you will net 490 labels, 20 sheets = 980, etc.
2 – 3 DAY SHIPPING INCLUDED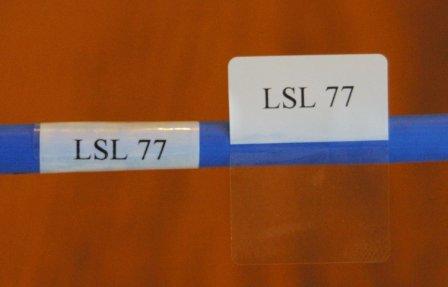 Everyone at the Network Connections Group USA is or has been a cabling technician on-site and we use these skills to put our company ahead of the rest. We are continuously developing our labeling solutions which comprise cable label sheets, patch panel labels, data jack labels, fiber labels along with our FREE web software and templates.
Our label solutions and wrap-around cable labels are tested and used by our guys each week, the laser sheet labels are very cost-effective and provide the best solutions for wire labels and wrap-around labels for structured cabling projects.