We love to watch the so-called experts when they tell all 15 people watching that this is a new and great idea.
So the story is that you can download your tester results into the cloud and send them to your handheld printer, all good stuff but not new. Twenty years ago we had a Greenlee something Datacomm Textron cat5 tester, the name may not be correct but 20 years ago we would guess what!.
Yes, we would send the .csv file from the tester for the labels to be printed and the printing of the result, so today's great show is nothing new may be the cloud bit, we just email them to each office or project.
Give me a break
Printing your wrap-around cable labels from test results is old tech and we all still do it, we use laser sheets, and just from the .csv file the most cost-effective way to print your cable labels, our software is FREE with no signup. www.printmycablelabels.com we also have FREE wrap-around cable labels for you to test.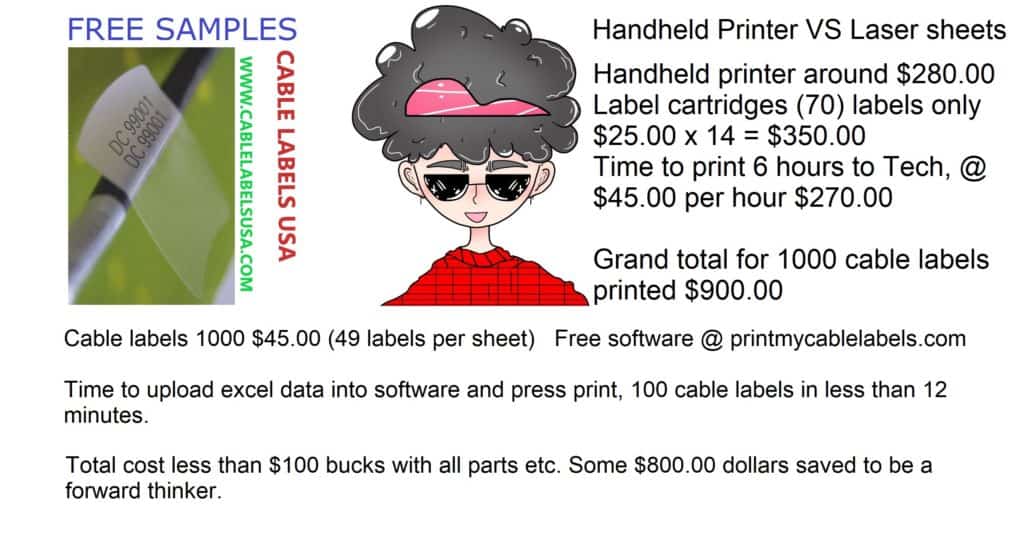 CABLES LABELS FOR STRUCTURED CABLING

THE BEST CABLE LABELS
These cable labels are designed to wrap around the cable, laminating themselves as they are applied to create a durable, easy-to-read cable label. These new and unique self-laminating laser labels are designed to cope with the increasingly harsh environments that network cabling has to tolerate. Cable labels spend their lives on twisted cables, exposed to high temperatures or harsh cooling, depending on their specific location within a site, so traditional cable labels are frequently pushed to their limits of adhesion.
The newly improved labels print well to give high quality, crystal clear print that is easy to read and will run through Laser printers without jamming or wasted labels. They are thinner, more flexible, and have upgraded adhesive for superb performance and greater adhesion in both normal and harsher environments.
Print the Cable labels for Free
The printing software is free with no sign-up @ www.printmycablelabels.com
They are designed for printing on a Laser printer, the top third of the cable labels being the print area, and the bottom two-thirds of our cable labels are clear polyester which over-laminates the printed part once applied.
Made from adhesive polyester, suitable for all standard Laser printers, and Made in the USA.
Various software templates are available online or by email
Polyester material service temp -40F to 302F (-40C to 150C)
Cable labels are used by many industry professionals who need a durable, long-lasting way of labeling their wires and cables. IT departments find them essential when networking a building or organizing a server room. Many electricians use wire labels on their projects to allow for easy identification when revisiting a project in the future. Cable labels can also be re-purposed for use in medical applications and on lab equipment.
Our laser printable cable labels are manufactured using a high-quality clear polyester film that is coated with a permanent, pressure-sensitive, UV-resistant adhesive. They feature an ink-receptive print area and are backed with a poly-coated, two-sided, printable, lay flat release liner. These laser printable labels are approved for indoor and outdoor use with occasional exposure to oil and water.
The tech Cable labels brand is a new design of data communications labels, these labels are designed by data communications Techs for the data communications market.
We make and distribute the most quality-driven cable labels designed by technicians for use by technicians around the world.
Over the last 25 years, we have used and watched cabling engineers number and label all types of data communications cable and equipment, we have worked in this field and used many cable labels around the world on millions of miles (km) of data cables.
At tech cable labels we decided to put this to good use by designing the best and most cost-effective labels for the cabling technicians. All our staff has at some times been locked in the rack or data communications room just labeling cables hour after hour.
We know what the technicians need to complete the job and we have now included all these into one group of labels which is designed for cabling technicians by technicians with the goal of making life inside that closet more acceptable.
We promise to make your working life better and offer that one on one contact to our staff speaking tech to tech, not the sales department or a manufacturer who just makes labels, we use and install all our products, we are Tech Cable Labels.
Tech Cable Labels enjoys strong and close working relationships with our distributor. We have found them to be hardworking technician-driven companies with great customer service.
If are interested in becoming a distributor and work in the data and telecom market we would like to discuss the possible distribution of our solutions.
Please email with any questions about our products or templates.
Since we started our Cable Labels website we have made the best cable labels for use by structured cabling and Network Technicians. The best part is we use these labels every day on cable labeling jobs around the world, so you know these are not just sold as label products like many sites on the web, but these are used by our own cabling staff.