Introduction:
If you're responsible for managing a network infrastructure, you know how important it is to keep everything organized and labeled. One of the most important tools for this task is patch panel labels. These labels help you keep track of your cables, connections, and equipment, making it easier to troubleshoot issues and make changes to your network.
In this guide, we'll take a closer look at patch panel labels and how to choose and use them effectively.
Headings:
Why You Need Patch Panel Labels
Types of Patch Panel Labels
How to Choose the Right Patch Panel Labels
How to Label Your Patch Panels
Best Practices for Using Patch Panel Labels
Frequently Asked Questions
Conclusion
Why You Need Patch Panel Labels:
Patch panel labels are an essential tool for any network infrastructure manager. Here are a few reasons why:
They help you keep track of your cables and connections: With patch panel labels, you can easily identify which cable is connected to which port on your patch panel. This makes it much easier to troubleshoot issues and make changes to your network.
They save time: By labeling your patch panels, you can save time when making changes or troubleshooting issues. Instead of tracing cables and connections manually, you can quickly identify the correct cable or port.
They reduce errors: Without clear labeling, it's easy to make mistakes when making changes to your network. Patch panel labels help reduce errors and ensure that your network is running smoothly.
Types of Patch Panel Labels:
There are several types of patch panel labels to choose from, including:
Pre-printed labels: These labels come pre-printed with common network terms and can be used for general labeling purposes.
Blank labels: Blank labels are a versatile option that allows you to create your own custom labels using a label maker or printer.
Color-coded labels: Color-coded labels can help you quickly identify different types of connections or equipment.
Wrap-around labels: Wrap-around labels wrap around the cable itself, making it easy to identify the correct cable and connection.
How to Choose the Right Patch Panel Labels:
When choosing patch panel labels, consider the following factors:
Label size: Make sure the label size is appropriate for your patch panel and cables.
Label material: Choose a label that will hold up to the conditions in your server room or data center. For example, if your environment is humid or prone to moisture, choose a label material that is waterproof.
Adhesive type: Consider the type of adhesive used on the label. Make sure it will stick to your patch panel and cables without peeling off.
Pre-printed vs. blank labels: Decide whether you want pre-printed labels or blank labels that you can customize yourself.
How to Label Your Patch Panels:
Once you've chosen the correct patch panel labels, it's time to start labeling your patch panels. Here's how:
Clean the surface: Before applying the labels, make sure the surface is clean and dry.
Plan your labeling strategy: Decide how you want to label your patch panels. For example, you might choose to label each port with a unique number or letter, or you might use color-coded labels to identify different types of connections.
Apply the labels: Carefully apply the labels to the appropriate ports or cables, ensuring they are centered and straight.
Best Practices for Using Patch Panel Labels:
To get the most out of your patch panel labels, follow these best practices:
Label both ends of each cable: Label both ends of each cable
These cable labels are designed to wrap around the cable, laminating themselves as they are applied to create durable, easy-to-read cable labels.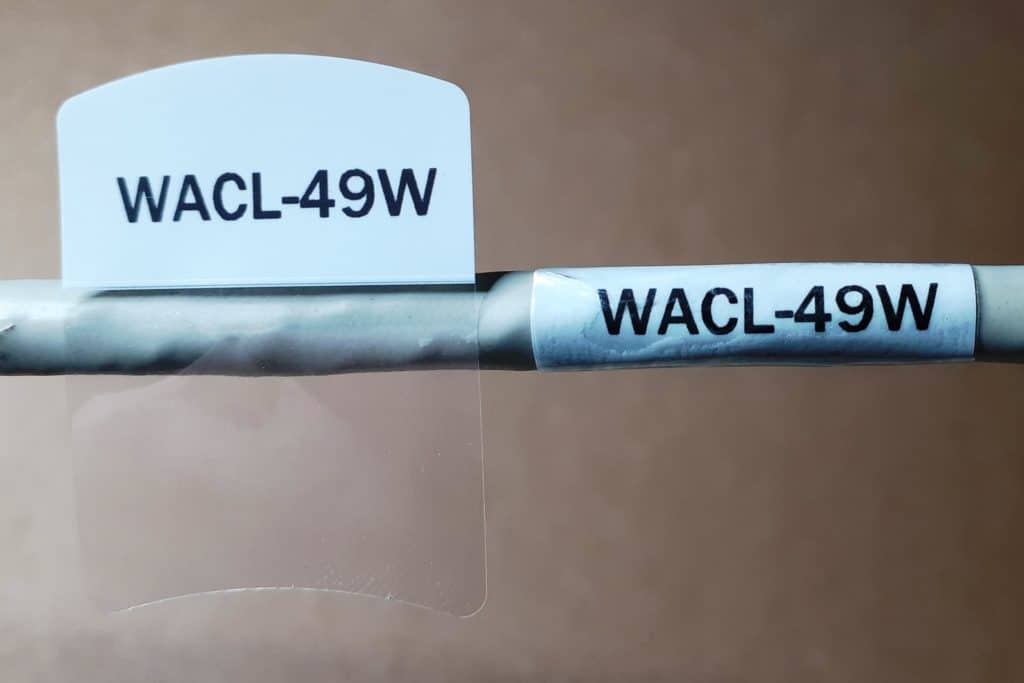 These new and unique self-laminating laser labels are designed to cope with the increasingly harsh environments that network cabling has to tolerate. Cable labels spend their lives on twisted cables, exposed to high temperatures.
Harsh cooling, depending on their specific location within a site, so traditional cable labels are frequently pushed to their limits of adhesion.
The newly improved labels print well to give high-quality, crystal-clear print that is easy to read and will run through Laser printers without jamming or wasted labels.
They are thinner, more flexible, and have upgraded adhesive for superb performance and greater adhesion in both normal and harsher environments.
Print your Cable labels for free
The printing software is free with no sign-up @ www.printmycablelabels.com
They are designed for printing on a Laser printer, the top third of the cable labels being the print area, and the bottom two-thirds of our cable labels are clear polyester which over-laminates the printed part once applied.
Made from adhesive polyester, suitable for all standard Laser printers, and Made in the USA.
Various software templates are available online or by email
Polyester material service temp -40F to 302F (-40C to 150C)
Cable labels are used by many industry professionals who need a durable, long-lasting way of labeling their wires and cables. IT departments.
Find them essential when networking a building or organizing a server room. Many electricians use wire labels on their projects to allow for easy identification when revisiting a project in the future. Cable labels can also be re-purposed for use in medical applications and on lab equipment.
Our laser printable cable labels are manufactured using a high-quality clear polyester film that is coated with a permanent, pressure-sensitive, UV-resistant adhesive.
They feature an ink-receptive print area and are backed with a poly-coated, two-sided, printable, lay flat release liner. These laser printable labels are approved for indoor and outdoor use with occasional exposure to oil and water.