Engraved labels for data cabling, IT, telecoms, electrical
Engraved high-quality labels made by our own experts, along with our installation knowledge, make us the best, so give us a try or ask for some FREE samples to test and see how we can make your low Voltage installation stand out from the rest.
High quality, accurate labeling with friendly, expert advice, and a quick turnaround. No matter whether a job is large or small we value all of our customers.

Engraved labels are laser engraved labels for data network cabling, IT, telecommunications, electrical, and engineering industries. Suitable for a wide range of applications from labeling patch panels and data jacks to server cabinets, warning signs, and electrical installations, our engraved labels are made to your specifications.
They do look great when installed on the customer's site.
Manufactured from micro-capped acrylic (Traffolyte style) in a range of colors and can be any shape or size up to (23.62″ x 11.81″) or (600mm x 300mm). We use state-of-the-art laser engraving machines which means we can produce labels quickly and cost-efficiently.

Engraved Tie-on Labels
Tie-on labels are available in various two-color combinations, examples are shown on the color chart below.
Made from micro-capped acrylic, which has a cap and core color. During the engraving process, parts of the cap color are cut away to reveal the core color underneath.
These labels are supplied with cut-out holes for securing the cable or to cable bundles using cable ties. Our engraved tie-on labels are highly durable and flexible. They are also fade and water-resistant.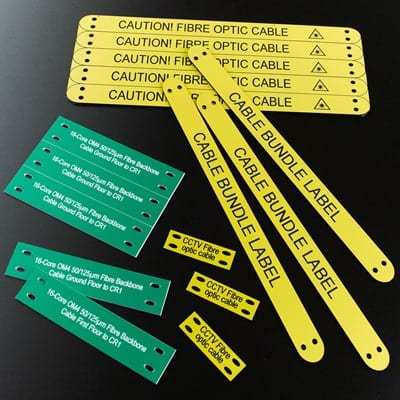 Patch Panel Labels
Up-to-date templates for all major manufacturers' data equipment and can advise on required measurements.
Data Jack Labels
Data Jack labels are produced in a sheet format in sequential order for ease of use. Made from micro-capped acrylic, the labels can have a peel-off backing revealing a strong adhesive. They are of high quality, durable, and excellent value for money.

Our dedicated team understands your need for a quick turnaround and can usually deliver in 3 to 7 days, worldwide direct to the site.
You can find out more and order your samples (please send your Name and address)
We also sell out TOP cable labels and FREE printing software.
CABLES LABELS FOR STRUCTURED CABLING

THE BEST CABLE LABELS
These cable labels are designed to wrap around the cable, laminating themselves as they are applied to create a durable, easy-to-read cable label. These new and unique self-laminating laser labels are designed to cope with the increasingly harsh environments that network cabling has to tolerate. Cable labels spend their lives on twisted cables, exposed to high temperatures or harsh cooling, depending on their specific location within a site, so traditional cable labels are frequently pushed to their limits of adhesion.
The newly improved labels print well to give high-quality, crystal-clear print that is easy to read and will run through Laser printers without jamming or wasted labels. They are thinner, more flexible, and have upgraded adhesive for superb performance and greater adhesion in both normal and harsher environments.
Print the Cable labels for Free
The printing software is free with no sign-up @ www.printmycablelabels.com
They are designed for printing on a Laser printer, the top third of the cable labels being the print area, and the bottom two-thirds of our cable labels are clear polyester which over-laminates the printed part once applied.
Made from adhesive polyester, suitable for all standard Laser printers, and Made in the USA.