Engraved-Labels
Our New Engraved labels provide a very cost-effective solution for extremely durable and high-quality labeling of professional installations for network cabling.
Some applications for engraved labels include:
Electrical Labels | Switchboard Labels | Danger / Warning Labels | Control Panel Labels | Special Switch Labels | Mimic Panels | Patch Panels | Data Jacks | Outlets | Wire Tags |
We are Electrical engineers and data communications techs, installing millions of data jacks so we know what we are talking about. They are others who make labels but they are just from an office with no idea what it is like to sit in the cabinet for four hours punching down jacks.
For this reason, they are no good at doing the job right, our engraved label man we have known for over 20 years and he is the top of the game for engraved labels. The others never made them so they are still learning how.
The reason you should know that this is simple we sell cable labels and engraved labels for a reason, that because we use them and they are great, others do it to make money only and have no idea what the structured cabling market is about.
We have the best-engraved labels made to order and the other doesn't even come close, so if you thinking about it give our guys the go and we make sure it's right.
Outlet Labels Labels are produced in a sheet format in sequential order for ease of use. Made from micro capped acrylic, the labels can have a peel-off backing revealing a strong adhesive. They are high quality, durable and excellent value for money.
Our dedicated team understands your need for a quick turnaround and can usually deliver in 3 to 7 days, direct to site.
Send your details on our contact form or call the office on USA 407 321 7394 and we help you get the right size and engraved labels you need for your projects.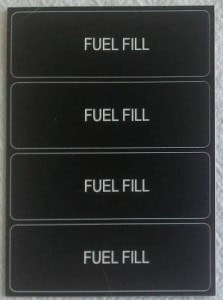 Find out more we send you some FREE samples.