This week we have gone back to our old roots and started cabling our new office, come nice new cat6 UTP and only seems like yesterday that we use to pull hundreds of these cables each day.
Our new office only need 25 drops plus a couple of telephone cables, which we just use the same cable now a days.  Same old problems that we are going to look at starting with the numbering of the cables, yes we used a sharpie, but soon realized that we do sell things to make this easy.
So off to the stock room and we used the small labels 1 through 25 at each end, with a sharpie and it worked very well as we pulled the cables.
The cable pulling went well and we used all the right stuff to the point of over-engineering just the 25 cables in the office.
We used some old Krone 4 gang outlets as we have the labels that fir the outlet/data jacks.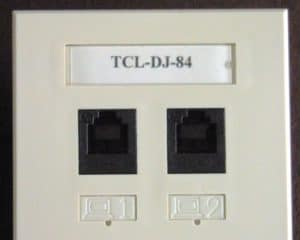 The standard white label sheet is our most popular and versatile material. It is a bright white face sheet with a permanent adhesive, which prints excellent laser printers.
Weatherproof Polyester for Laser
We then hit the Patch panel, no big job, just punch down and labels.
We also numbered all the cable with a new set of printed cable labels the TCL-49.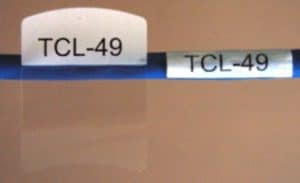 This along with the two tail makes the cable label even stronger and in tests, it outperformed other labels. Our Tech Cable Labels Laser printable Labels are new Technical designed labels ideal for multipurpose labeling projects that can benefit from self-laminating labels.
They are manufactured using a clear polyester film with an ink receptive print area. Made in the USA and designed by our own Techs this new design enables fast straight installation in the most difficult environments, with our curved top when help get the label on the right spot to the two tails ensure a great finish.
The film is coated with a permanent, UV-resistant, pressure-sensitive adhesive. Our labels are backed with a two-sided, poly coated, and printable lay flat release liner. The film is approved for indoor/outdoor use with occasional exposure to oil and water.
More to come.